This is another question that I get asked a lot. So I have pondered and continually ponder this also. For one day I will be married and I will have to know what to do. Here are some basic points that I came up with after reading talks from Apostles of the Lord.
These are again just ideas, you have to put forth the desire to strengthen the relationship first.
TEMPLE MARRIAGE

COMPLETE FIDELITY

ATTEND TEMPLE REGULARLY (TOGETHER)

DATE NIGHT FREQUENTLY

SCRIPTURE STUDY AND PRAYER DAILY (TOGETHER)

LOVE ONE ANOTHER

SERVE ONE ANOTHER

THE POWERS OF PRO-CREATION ARE SACRED AND ARE TO BE PROTECTED

NOT SO MUCH MARRYING THE RIGHT PERSON, BUT BEING THE RIGHT PERSON

EXERCISE FAITH

CHOOSE YOUR LOVE, LOVE YOUR CHOICE

PARENTING MANUAL=SCRIPTURES

TEACH CHILDREN IN LOVE AND RIGHTEOUSNESS

MOTHER HAVE THE DIVINE POWER TO KNOW HOW TO HELP CHILDREN

TEACH CHILDREN PRINCIPLE OF THE GOSPEL (TOGETHER)

BASK IN THE SPIRIT TOGETHER

ENJOY THE TRIALS AND TRIBULATIONS BECAUSE LOVE IS A COMMITMENT. IF YOU TRULY LOVE HER, YOU WON'T LET ANYTHING GET IN BETWEEN YOU

COMFORT YOUR WIFE AT ALL TIMES

YOUR WIFE IS A SPECIAL DAUGHTER OF GOD, YOU BETTER TAKE CARE OF HER
Mark 10:6-8 states, "But from the beginning of the creation God made them male and female.
For this cause shall a man leave his father and mother, and cleave to his wife;
And they twain shall be one flesh: so then they are no more twain but one flesh."
Elder Dallin H. Oaks said, "A good marriage does not require a perfect man or a perfect woman. It only requires a man and a woman committed to strive together toward perfection.
Whatever the outcome and no matter how difficult your experiences, you have the promise that you will not be denied the blessings of eternal family relationships if you love the Lord, keep His commandments, and just do the best you can. From personal experience, I testify to the sweetness of the marriage and family life that the family proclamation describes as founded upon a husband and wife's "solemn responsibility to love and care for each other and for their children" and "upon the teachings of the Lord Jesus Christ."
President Spencer W. Kimball taught: "Two individuals approaching the marriage altar must realize that to attain the happy marriage which they hope for they must know that marriage … means sacrifice, sharing, and even a reduction of some personal liberties. It means long, hard economizing. It means children who bring with them financial burdens, service burdens, care and worry burdens; but also it means the deepest and sweetest emotions of all."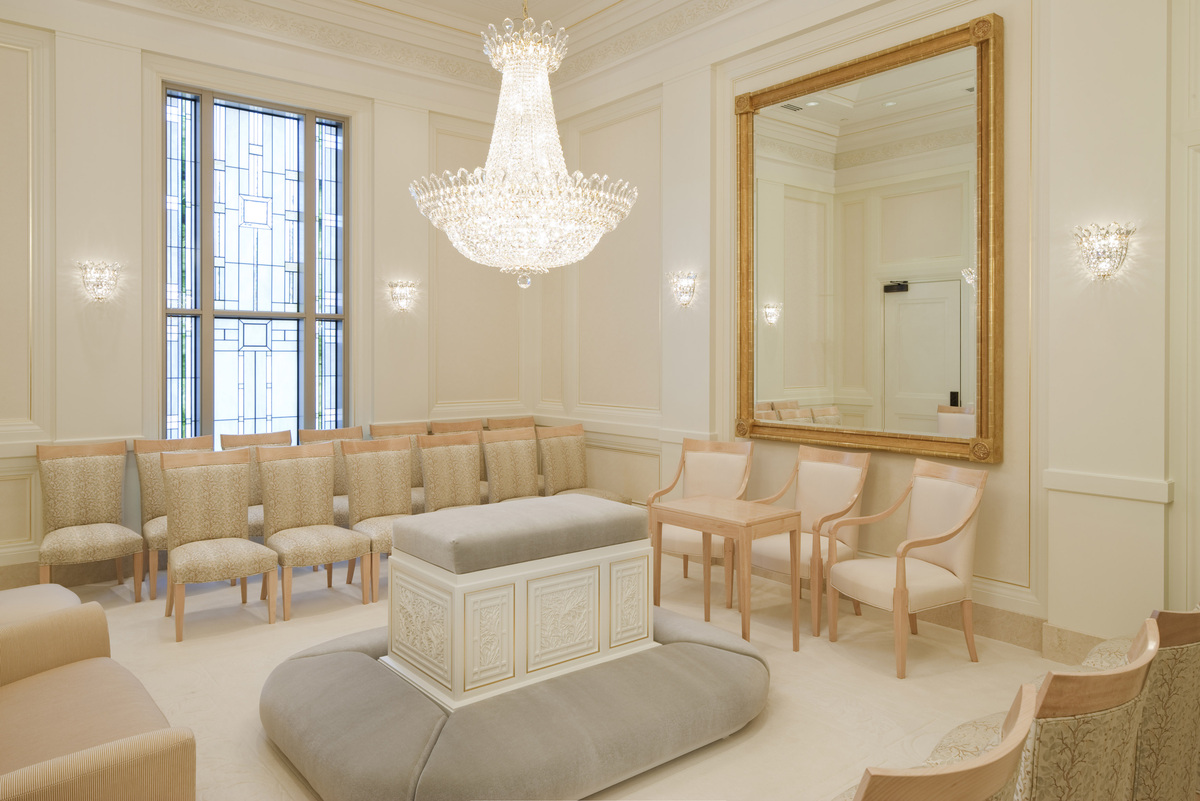 Bountiful Utah Temple Sealing Room. This is where couples are sealed together for time and all eternity.

Richard W. Linford said,
"Twenty Ways to Make a Good Marriage Great"
1.

Night and Morning Prayer …

to say thanks, to ask for help in your marriage and family, to worship together.
2.

A Weekly Planning Meeting …

to discuss the calendar, talk over needs and problems, decide priorities and next steps. (Write decisions in a journal, including goals and discussion topics, and reasons for each.)
3.

A Daily Phone Call or Personal Conversation …

to say "I love you," to touch base, to discuss the day, to show you care.
4.

A Weekly Date …

to a favorite park, a concert, the library, the gym; or staying home for a candlelight dinner, a game, or a mutual hobby.
5.

Patience Regardless …

of missed meals, tardiness, forgotten favors, a thoughtless remark, impatience.
6.

Daily Service …

helping with house or yard work, mending a piece of clothing, taking a turn with the sick baby, fixing a favorite meal. (

Write it down. Do it!

)
7.

A Budget …

to tie down income and expenses, help set financial goals, and give you control over your finances.
8.

Listening …

not only to what is said, but also to what is meant.
9.

Regular Attendance …

at church—and where possible—the temple.
10.

Daily Scripture Reading …

to learn the gospel, to receive inspiration for yourself and your marriage, to become more like Jesus.
11.

Working Together …

caring for a garden, painting a bedroom, washing the car, scrubbing floors, building a piece of furniture, writing a poem together, team teaching a class.
12.

Forgiving Each Other …

always learning from each other, trying a different way, being the first to make peace.
13.

Courtesies …

like saying please and thank you, not interrupting or belittling, not doing all the talking, continuing the niceties of courtship.
14.

Soft and Kind Words …

of tenderness, compassion, empathy.
15.

Learning Together by …

reading to each other, discussing ideas, taking a class.
16.

Respecting …

opinions, ideas, privacy.
17.

Supporting Your Spouse's …

Church callings and righteous goals.
18.

Caring for Your Spouse's Family by …

enjoying their company, praying for them, serving them, overlooking differences.
19.

Occasional Gifts …

such as a note, a needed item—but mostly gifts of

time

and

self.
20.

Loving with All Your Heart.

"Thou shalt love thy wife [thy husband] with all thy heart, and shalt cleave unto her [him] and none else." (
D&C 42:22
.)
Marriages are Eternal and are meant to be that way from the beginning of this world.