Christ suffering in the Garden of Gethsemane

You may ask why I have such a title as this. I was pondering and looking through the New Testament for an idea on my post. Well I found this in Mark. At the time where Christ just suffered for our sorrows, pains, temptations, and for our sins. After He was taken to Pilate questioned, Pilate asked the multitude who he should release whether it be Barabbas who had committed murder or release Jesus Christ the Savior of the World. The chief priests convinced the crowd to release Barabbas. And so Barabbas a true criminal was released and Christ was held. Pilate then asked what shall he do with the King of the Jews. They all said, "CRUCIFY HIM!" So He was taken and scourged, beaten and mocked for all mankind.
"And they clothed him with purple, and platted a crown of thorns, and put it about his

head,
And began to salute him, Hail, King of the Jews!
And they smote him on the head with a reed, and did spit upon him, and bowing

their

knees worshipped him.
And when they had mocked him, they took off the purple from him, and put his own clothes on him, and led him out to crucify him.
And they compel one Simon a Cyrenian, who passed by, coming out of the country, the father of Alexander and Rufus, to bear his cross.
And they bring him unto the place Golgotha, which is, being interpreted, The place of a skull.
And they gave him to drink wine mingled with myrrh: but he received

it

not.
And when they had crucified him, they parted his garments, casting lots upon them, what every man should take.
And it was the third hour, and they crucified him.
And the superscription of his accusation was written over,

The King of the Jews

.
And with him they crucify two thieves; the one on his right hand, and the other on his left.
And the scripture was fulfilled, which saith, And he was numbered with the transgressors.
And they that passed by railed on him, wagging their heads, and saying, Ah, thou that destroyest the temple, and buildest

it

in three days,
Save thyself, and come down from the cross.
Likewise also the chief priests mocking said among themselves with the scribes, He saved others; himself he cannot save.
Let Christ the King of Israel descend now from the cross, that we may see and believe. And they that were crucified with him reviled him.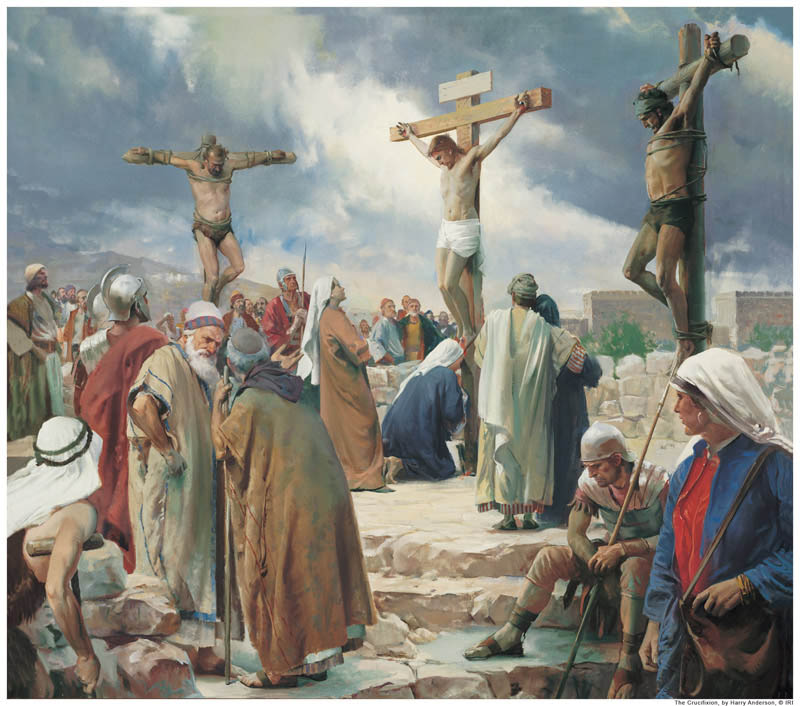 Christ dying on the cross
And when the sixth hour was come, there was darkness over the whole land until the ninth hour.
And at the ninth hour Jesus cried with a loud voice, saying, Eloi, Eloi, lama sabachthani? which is, being interpreted, My God, my God, why hast thou forsaken me?
And some of them that stood by, when they heard

it,

said, Behold, he calleth Elias.
And one ran and filled a spunge full of vinegar, and put

it

on a reed, and gave him to drink, saying, Let alone; let us see whether Elias will come to take him down.
And Jesus cried with a loud voice, and gave up the ghost."
In this cry to His Father Jesus says, "My God, My God, why hast thou forsaken me?" How hard this must have been for the Son of God to have had His Father withdrawal from Him for our benefit.
Elder Jeffrey R. Holland said of this Atonement,
"Now I speak very carefully, even reverently, of what may have been the most difficult moment in all of this solitary journey to Atonement. I speak of those final moments for which Jesus must have been prepared intellectually and physically but which He may not have fully anticipated emotionally and spiritually—that concluding descent into the paralyzing despair of divine withdrawal when He cries in ultimate loneliness, "My God, my God, why hast thou forsaken me?"
The loss of mortal support He had anticipated, but apparently He had not comprehended this. Had He not said to His disciples, "Behold, the hour … is now come, that ye shall be scattered, every man to his own, and shall leave me alone: and yet I am not alone, because the Father is with me" and "The Father hath not left me alone; for I do always those things that please him"?
With all the conviction of my soul I testify that He did please His Father perfectly and that a perfect Father did not forsake His Son in that hour. Indeed, it is my personal belief that in all of Christ's mortal ministry the Father may never have been closer to His Son than in these agonizing final moments of suffering. Nevertheless, that the supreme sacrifice of His Son might be as complete as it was voluntary and solitary, the Father briefly withdrew from Jesus the comfort of His Spirit, the support of His personal presence. It was required, indeed it was central to the significance of the Atonement, that this perfect Son who had never spoken ill nor done wrong nor touched an unclean thing had to know how the rest of humankind—us, all of us—would feel when we did commit such sins. For His Atonement to be infinite and eternal, He had to feel what it was like to die not only physically but spiritually, to sense what it was like to have the divine Spirit withdraw, leaving one feeling totally, abjectly, hopelessly alone.
But Jesus held on. He pressed on. The goodness in Him allowed faith to triumph even in a state of complete anguish. The trust He lived by told Him in spite of His feelings that divine compassion is never absent, that God is always faithful, that He never flees nor fails us. When the uttermost farthing had then been paid, when Christ's determination to be faithful was as obvious as it was utterly invincible, finally and mercifully, it was "finished." Against all odds and with none to help or uphold Him, Jesus of Nazareth, the living Son of the living God, restored physical life where death had held sway and brought joyful, spiritual redemption out of sin, hellish darkness, and despair. With faith in the God He knew was there, He could say in triumph, "Father, into thy hands I commend my spirit.

Resurrection of Christ

Brothers and sisters, one of the great consolations of this Easter season is that because Jesus walked such a long, lonely path utterly alone, we do not have to do so. His solitary journey brought great company for our little version of that path—the merciful care of our Father in Heaven, the unfailing companionship of this Beloved Son, the consummate gift of the Holy Ghost, angels in heaven, family members on both sides of the veil, prophets and apostles, teachers, leaders, friends. All of these and more have been given as companions for our mortal journey because of the Atonement of Jesus Christ and the Restoration of His gospel. Trumpeted from the summit of Calvary is the truth that we will never be left alone nor unaided, even if sometimes we may feel that we are. Truly the Redeemer of us all said: "I will not leave you comfortless: [My Father and] I will come to you [and abide with you]." "
How greatful we should be for our Savior Jesus Christ. We are so blessed to be able to partake of His Atonement, the cleansing power. This is a gift like never known to man. This gift is the way we can gain eternal exaltation, only through the name of Jesus Christ and His Atonement.